RV rentals have been through the roof for months running as people get out and explore what the country has to offer.
On the coasts, there are amazing beaches with small towns where you can camp right next to the water. In between, you've got incredible national parks full of mountains, deserts, plains, and all sorts of wildlife.
There's a lot to see, and hitting the road is the best way to do it.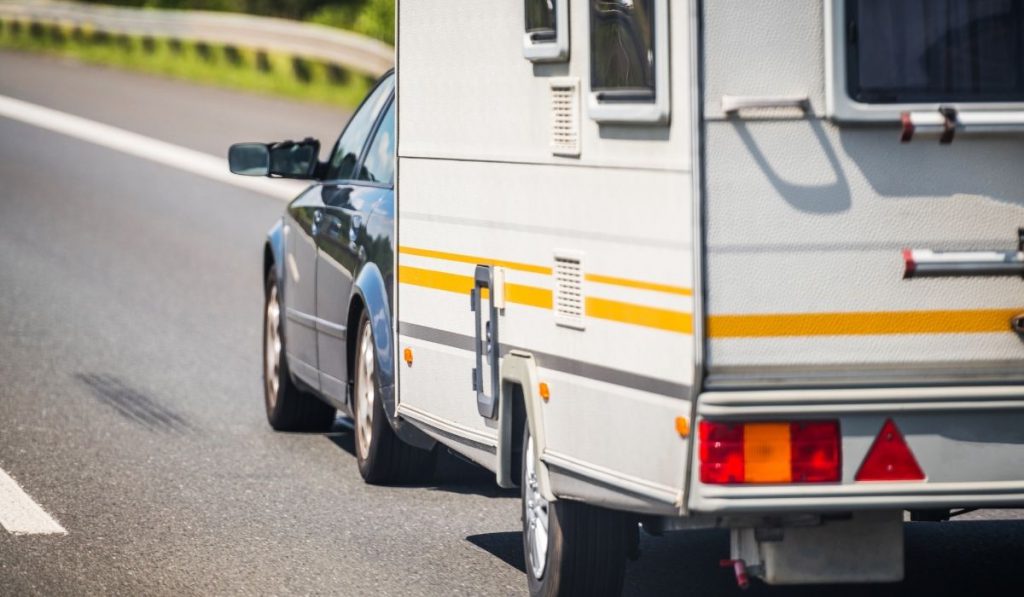 One of the best ways to go on a road trip is by hooking up a travel trailer to your car or truck. With the travel trailer, you get extra flexibility because, after you've parked at your camp for the night, you can unhook and take your car into town to stock up on supplies or grab a quick bite to eat.
Depending on how long you're going, managing storage inside your travel trailer can be a challenge. You've got to manage food, clothing, toiletries, and other supplies. While every travel trailer has dedicated storage areas, there are things you can do to get the most out of what can be a tight space.
Here are 11 tips for storing items inside your travel trailer.
1. Make a List Before You Start Shopping
Making a list of what you need to bring will help you make sure you put everything in the trailer. It will also likely save you money because there will be fewer last-second trips to the grocery store to buy what you need at full price.
Keeping a list will help you curate what must go, what you want to go, and what probably doesn't need to go. Packing is more effective when you know how much stuff you're dealing with.
2. Make Your Packing List Trip-Specific
Don't pack beach chairs if you're going hiking in a national park. Too many road trippers worry about missing something, so they bring everything. Remember, you can always stop and buy something that you forget. Picking something up at the store is often worth the price, especially if it frees up more space while you're on the road.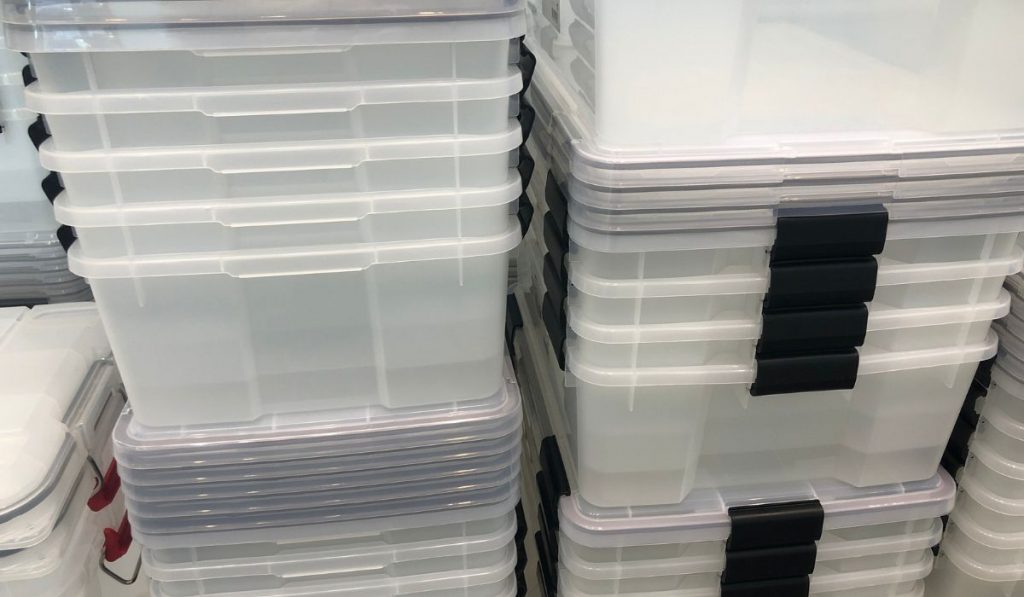 3. Invest in Some Storage Containers
A lot of modern travel trailers have storage bins built-in, but probably not as many as you need. You can pack more efficiently and fit more stuff if you buy some storage containers and put them in closets, under seats, and other spots where there is space. You can find storage options that are affordable online and getting some to your trailer's specific measurements shouldn't be too difficult.
4. Hanging Baskets Work Well on the Road
If you're a seasoned trailer driver or RVer, then you know how much stuff shifts as you drive. Food falls all over the place, and liquids spill.
Hanging baskets are a terrific solution for things like apples, oranges, and other snacks. They can swing back and forth harmlessly while you're driving, and they will provide extra storage space when you're stopped and building out camp.
5. Install Hooks Outside Your Trailer
If you're traveling with kids, then you're likely picking up towels off the ground, removing wet towels from couches, and screaming at kids to keep track of their towels. Instead of all that hassle, you can install hooks that will stick to the side of your trailer and stay there. They're perfect for hanging those towels, beach bags, cooking utensils, and whatever else can go on a hook.
6. Hanging Storage Bins
While you're at it, get some hooks that you can install on the inside of your trailer as well. Then, you can use the hooks for hanging storage bins.
Families love having little storage bins hanging around the trailer. You can put them at the perfect height for little ones to put toys, socks, and even shoes to keep your trailer floor from catching all of the dirt and dust from outside.
Put some in the bathroom, if you've got one, where you can hang hairbrushes, nail clippers, and whatever else you need.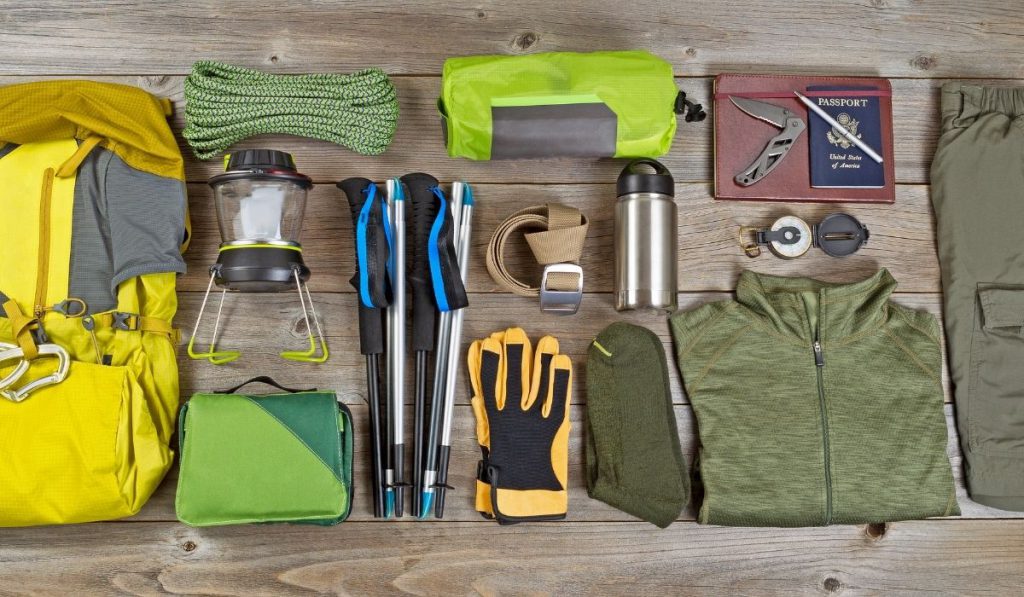 7. Buy Camping Gear When Possible
It won't always make sense to buy the camping version of a stove or a coffee maker. However, if you're on the road a lot and operating out of your camping trailer a great deal, then it's usually worth the payoff. Camping companies are great at making smaller versions of the things we have at home.
When you buy the camping version, you're probably going to save a lot of space in your trailer storage. Whether you pick something up and if it's worth the cost will, again, typically depend on how much you use your trailer.
8. Use Stackable Cookware
Too many trailer kitchens involve a mixture of stuff that's leftover as you upgrade in your home kitchen. You've got old pots and pans that don't match clunking around inside drawers as you drive.
However, investing in stackable cookware will save a ton of room and leave you more storage options in your kitchen. You can get a set that's designed for trailers for a good price and it will fit neatly inside your cabinet or drawer.
9. Collapsable Items Will Save You Space
Nowadays, you can buy collapsing chairs, buckets, cups, and a host of other gear that you will want with you on the road. Before your next road trip, hop online and do some research about what sort of items you can buy that now come with a collapsing option. You don't need to have full-sized cups or buckets anymore. Instead, you put them in drawers and other tight spaces and stretch them out when you need to use them.
10. Roll Your Clothes
Just like any frequent flier knows, rolling clothes saves space in a suitcase, and it will save you room in your travel trailer. Rather than store clothing items in your trailer as you would on your shelves at home, try rolling them next time. You'll be able to fit more things inside, and the drawers will stay neat because it will be easy to grab what you need instead of digging through stacks of shirts.
New road trippers often make the mistake of packing more clothing than they need. You don't need to bring that much. Most of the campsites you'll visit will have on-site laundry, and you can do it after dinner while the kids run around playing with other children in the park.
11. Mark Dedicated Storage Locations
There aren't many rules about where exactly something should go, but having dedicated spaces will fight off clutter and make finding things easier. You can even label certain areas inside your travel trailer to let everyone know where things belong. As a result, you will know where the tools are if you get a flat, and everyone will know where to go when they need a yummy treat.
These are just some of the storage tips you can use to make your next travel trailer trip a success. With the right packing and storage strategy, you will enjoy your time on the road more, and you'll feel more comfortable taking longer trips and staying out for weeks at a time.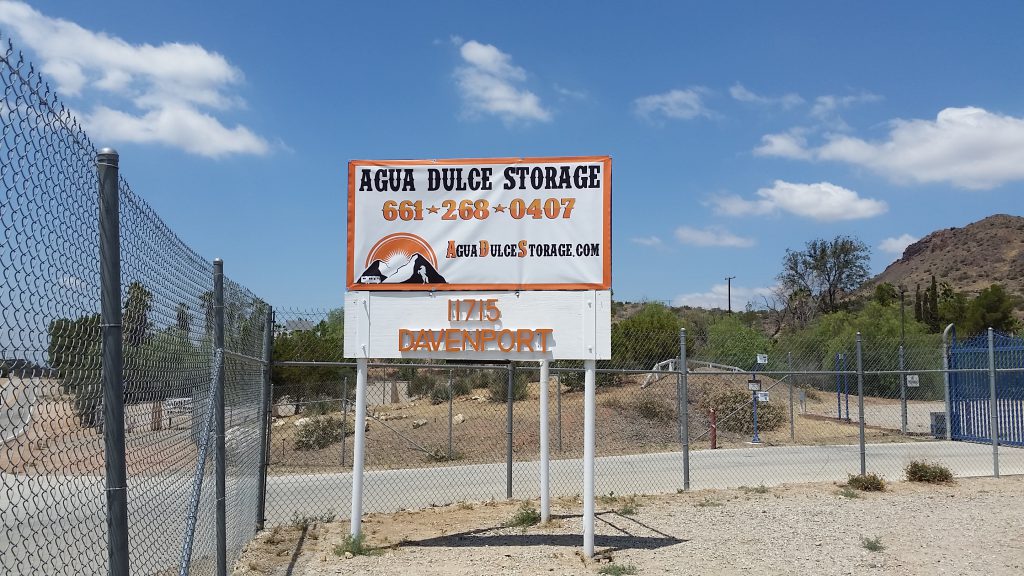 If you're looking for an RV Storage Facility to securely store your campers or fifth wheelers, Agua Dulce Storage has got you covered! Here at Agua Dulce Storage, we offer a wide selection of parking units to accommodate your every need. To learn more about our storage facility, please check out our website at https://aguadulcestorage.com/.