If you're an ATV lover, then you're always looking for a great spot away from the crowds where you can race up and down dunes until your heart's content. Finding the best spots is every adventure ATV rider's dream. People spend hours poring over forums and looking online for the best sand dunes to visit. Certainly, finding the place that fits your skill level that's within striking distance makes all the difference. Likewise, adventure seekers need to know which places offer challenges and fun that are worth packing up the car and driving for a few hours to get there.
The best sand dune location is a matter of perspective. Different riders want variety. Some ATV riders travel with kids, so want something a bit tamer. Other rides want maximum slopes and pristine landscapes. Finding the right sand dune to ride your ATV will get your more thrills and smiles as you cruise the slopes. The good news is that California has something for everyone. There are great sites across the state whether you're riding for a weekend or want to hit multiple dunes on a world-class road trip.
California is famous around the world for its beautiful and varied natural landscapes. ATV riders are in luck whether they live in the state or are just visiting. California has some of the most challenging, stunning and pure fun sand dunes in the world. There's a great mix of beachside dunes and middle of nowhere desert adventures. People come from everywhere to ride famous California sand dunes. Here's a list of the top California sand dunes and a breakdown of what kind of rider they cater to.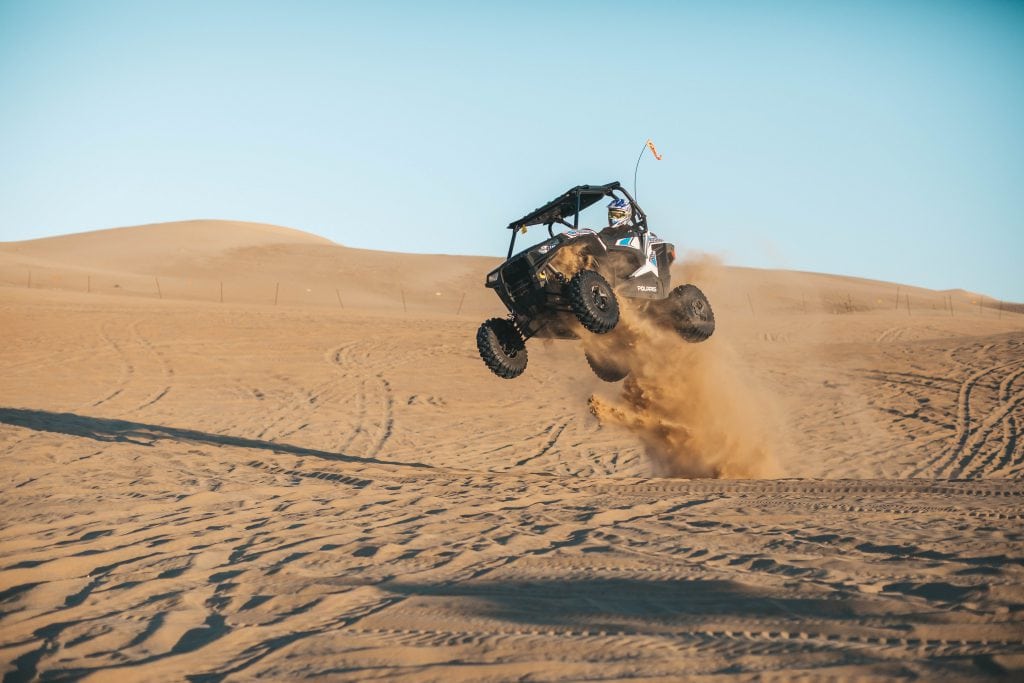 Dumont Dunes
Dumont Dunes is widely recognized as one of the most epic, iconic sand dunes in the world. People travel from long distances to visit these famous dunes in the Mojave Desert. Dumont is travel friendly, too. There's plenty of space for everyone. One interesting aspect of Dumont Dunes is that they're one of the few dunes to boom. However, you'll only get to hear the sound of the dunes if you're lucky enough to visit when numbers are low. The sound of recreational vehicles is blasting loudly on most days, and easily drowns out any natural booming.
Once you pay the reasonable entrance fee, riders have access to the entire area which covers over 8,000 acres. A riding permit is required for every vehicle and rider that enters the park. There's something for every skill level in Dumont Dunes. Children and Experts can find a challenge in there somewhere. Dumont is a pack in, pack out site, so visitors have to carry out any trash or waste when they leave. There are no dumpsters in the dunes.
The dunes in Dumont are tough to beat as well. They are steep slopes and bowls spaced perfectly apart for long, flowing exciting rides. The size of Dumont helps facilitate free riding where ATVs aren't constantly maneuvering around each other. You'll see other riders, but it won't be as congested as it can get in some other locations. The property also features a ton of dirt roads and scenic landscapes visitors can take in for a break from the slopes. It's recommended to bring dirt tires along with paddles so you can change them and get the most out of the park. So you can hit the slopes early in the morning and as the sun sets. During the heat of the middle of the day, check out some of the dirt paths and look for birds, wildlife and breathtaking landscapes.
For a bit of fun, riders love to take a break from riding at the North Pole in Dumont. The North Pole is a metal pole posted in a flat area of the dunes where kids can write letters to Santa and put them in a mailbox. Competition Hill is another huge draw. It's 450 ft tall and is the largest dune in Dumont. It's always crowded but for good reason. There are steep slopes to one side and gradual inclines on the other. It's a competition location as well.
Most visitors to Dumont leave either glad they brought out the big guns or wishing they had more powerful vehicles. The sand eats up a lot of power as ATVs work their way up the steep slopes. Smaller vehicles will have a hard time keeping up. It's something to be aware of if you don't have ATVs with a great deal of horsepower. The trip will still be fun, but you may not be up and down as fast as you'd like.
As for rules in the park, night riding is allowed, but no fireworks. There are decibel restrictions in place, and 8-foot-tall whip flags are required. No glass containers are permitted. One thing to keep in mind; bring in plenty of supplies because the nearest supply stop is over 30 miles away in Baker. The weather is great in the winter but can top 120 degrees Fahrenheit during summers. Pack accordingly depending on what time of the year you get there to make sure you get the most out of your time in Dumont.
Find more info here.
Oceano Dunes
A visit to these awesome dunes should be about more than a fun ride. Ocean Dunes State Vehicular Recreation Area sits in the vicinity of some of America's most beautiful natural scenery. If you're traveling from farther away, make sure to extend your tip a bit and hit the redwoods and the coast for a good time. Oceano is also known as Pismo and is celebrated by Californians as one of the state's best ATV recreation spots. It's got many terrific wide-open areas next to the coast.
Oceano is all about good vibes. It doesn't have the steepest or biggest slopes, but it's tough to beat riding during the day and camping by the ocean on the beach at night. The dunes aren't crazy, so they're good for beginners and families alike. There are jumps and decent-sized dunes, though, for people looking to push it a bit. ATV riders should know that all varieties of off roaders love to come to Oceano Dunes. Buggies, jeeps, and other four wheelers are driving around dunes and trails. For people driving through, there are plenty of ATV rental companies in driving distance of the dunes.
One thing every visitor should be aware of is that they'll be camping on the beach, so watch out for tide levels. Overall, Oceano's a great bargain at just $10 a night to camp. Spots fill up extremely fast during the summer. Some people report having to book a place over a month in advance to make sure they got a spot. Oceano's dog friendly and a great spot for families.
You may want to get in a visit to Oceano Dunes while you still can. Early this year, complaints from Californians about threats to the environment and recent off-road fatalities led authorities to make statements that they were taking a look at the situation. The at-times high volume of ATVs that the OHV recreation area can lead to increased risk of accidents.
Currently, ATV dune riding is still permitted and Oceano remains one of the must-stop locations on the California coast. ATV riders can relax after a long day of dune riding by visiting some of the nearby coastal towns for food and shopping.
Find more info here.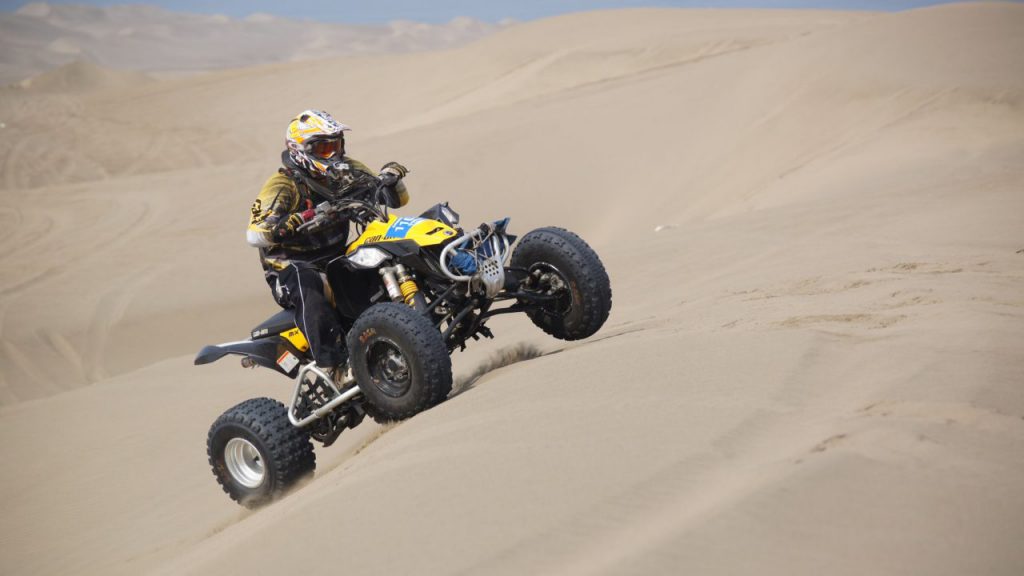 Imperial Sand Dunes
Imperial Sand Dunes Recreation Area houses perhaps the most famous dunes in the world. It's the largest off-highway vehicle location in the United States. The golden sand dunes stretch for miles in every direction. The dunes are a huge tourist draw among ATV riders, photographers, campers and other travelers. Glamis Dunes is every ATV rider's dream with over 150,000 acres of beautiful slopes and bowls for every skill level. The incredible size of these dunes is what makes it the place to be. The size of the dunes can be intimidating in places, so are likely suitable for more experienced riders. For kids and beginners, bring a sled to slide down the steep slopes at high speeds for a great time.
Riders can literally spend hours riding in the same direction without having to go over the same slope twice. The weather around Imperial is also constantly changing the landscape, so every time you go it will be a bit different. Visitors rave about the lovely white spongy sand in Imperial that's great for pictures and riding.
The draw of Glamis Dunes brings out the crowds on weekends and holidays. People generally gather to camp around Gecko Road, the Washes and Vendor Flats, but you can basically camp anywhere in the area. Just be ready to run into friendly riders in the best spots when conditions are right. Keep in mind, the Imperial Sand Dunes are famous, so tourists will be walking around and there will be a lot of cars driving through for pictures. There's also horse riding on trails throughout the area.
Camping's a bargain too, at just $35 a week if purchased online before you arrive. Head's up, safety flags are required on every ATV. Services in Imperial Dunes is limited and changes depending on the season, so make sure you pack enough for your stay. Yuma, AZ is about twenty minutes away by car if you need to make a supply run.
ATV rentals are available in Glamis Dunes. Rentals can also be found in nearby Yuma or El Centro. Glamis Beach Store is basically the only option for ATV maintenance and repair should you run into any trouble.
Find more info here.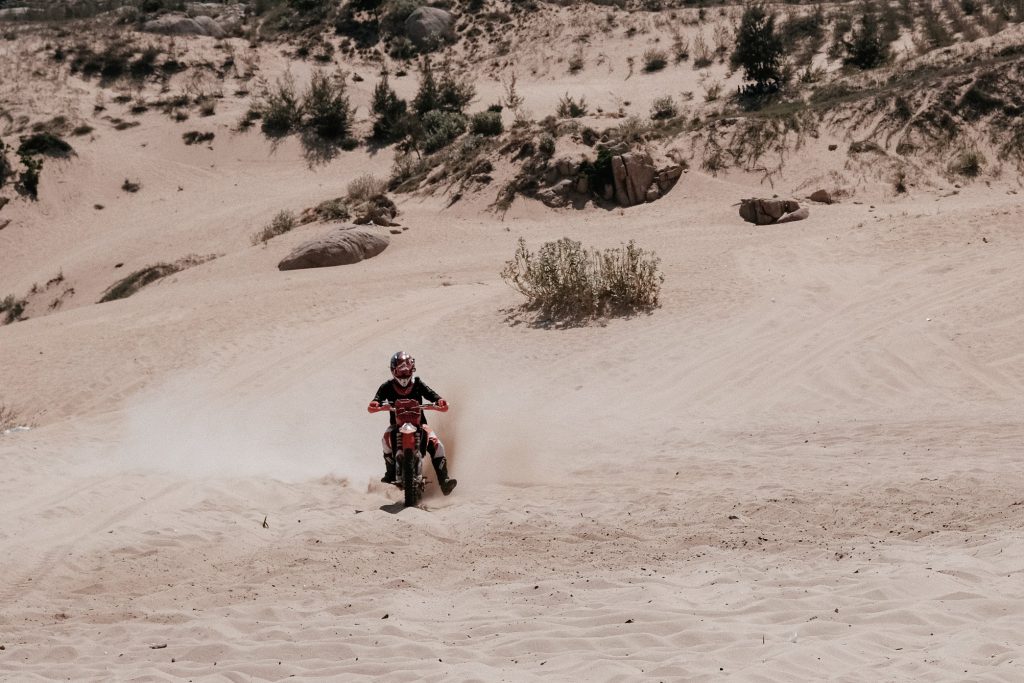 Rasor Dunes
Rasor Dunes are located miles outside of Baker, California, so it's in perfect striking distance to a city for supply runs. The area's remote, though, so it doesn't have a lot around it. The access roads are dirt roads around 25 miles outside Baker. People willing to make the trek, however, are well rewarded. Rasor Dunes has rolling dunes and beautiful scenery. The historic Mojave Road serves as another attraction in the area for travelers, so make sure you take it in while you're there.
The recreation area features elevation changes of up to around 1,000 ft in the park, so riders will have a ton of fun cruising up and down fantastic slopes. Rasor Dunes encompasses over 20,000 acres. Incredibly, there are no fees to stay at Rasor, but everything's dry camping. There are no facilities on site.
In addition to great dunes, Rasor's got open valleys and rolling hills all beckoning for ATV riders to explore. Indeed, most visitors come to Rasor Dunes to ride ATVs or motorcycles. Because it's relatively remote, Rasor Dunes is almost exclusively used for casual riders looking for fun. There aren't any scheduled competitions here. What that means is that visitors get more pristine sand to themselves. Beautiful southern California weather keeps the area open to dune riding almost year-round. There's something for every level of rider, and folks who love dry camping and getting out into nature will love spending time here.
Aside from the wonderful ATV riding, Rasor Dunes has hiking, birdwatching, and rock climbing available. There's plenty of wildlife around to look out for. The nature is great for families and non-ATV riders as well, so riders will have to keep an eye out for other people in the vicinity. Weather in Rasor Dunes fluctuates widely depending on the season. Visitors should stay current on forecasts to plan and pack appropriately.
Find more info here.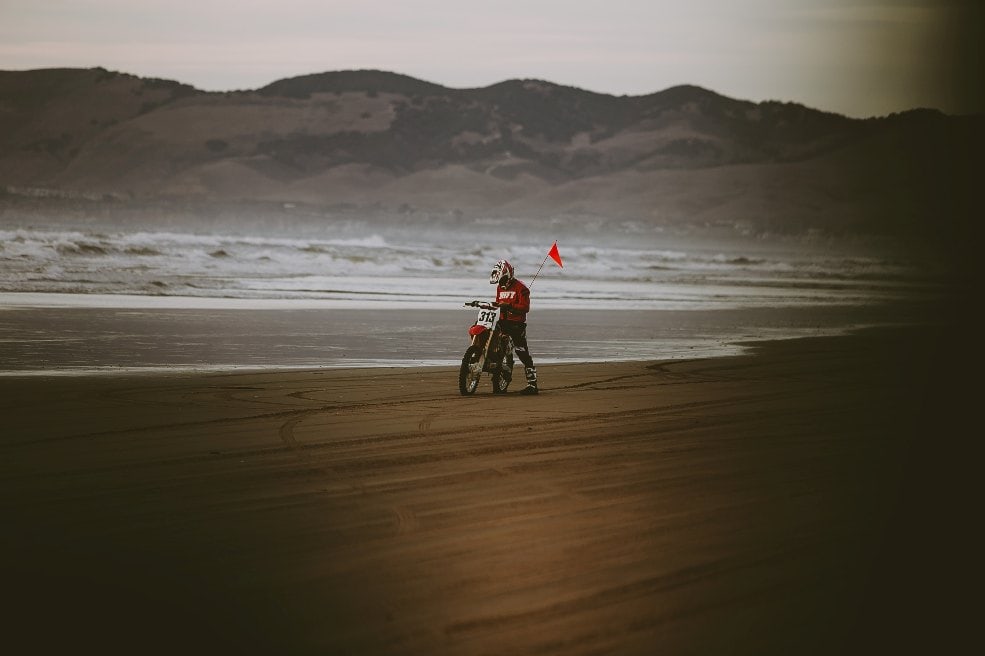 Samoa Dunes
Samoa Dunes is located just west of Eureka, California, and offers something for most recreation lovers. For ATV riders, these aren't the most intense or biggest slopes around. The riding area is relatively small at just around 140 acres of open space. There is also a 70-acre designated ATV riding area. The park is regularly patrolled by park rangers, so minding the rules is more heavily emphasized than in some remote dune areas. However, the watchful eyes also help maintain the park, so facilities and trails are always in great shape. Samoa Dunes also has great facilities. There are picnic tables, toilets, grills, unloading ramps and scenic overlooks. It's a very convenient place for people who want to come in groups and stay for a while.
Most people make a vacation out of a visit to Samoa Dunes. It's located right on the beach, and there's picturesque hiking, birdwatching, fishing and surfing in the park. So bring the ATVs and the boards out for a weekend of fun. Outside the designated riding areas, the beaches are closed to vehicles, so they're in great condition for people looking to get away and relax.
Samoa Dunes are well-equipped with several RV parks and campsites in the area. Visitors can also catch up on a bit of history during their trip. Samoa used to house a Coast Guard surveillance outpost during World War II. Long before that, Wiyote Indians used the area as a food gathering site.
When it comes to ATV riding, hitting dunes right next to the ocean is hard to beat. Currently, there aren't any restrictions on when you can ride on trails, and all trails are open to any OHV vehicle types. There are some signs near fenced-off areas to protect wildlife, and helmets are required. Flags are required on every vehicle for safety.
Riding around the sand dunes as the waves crash beside you is one of the best ATV experiences California can provide. The beach is relatively tame, so small kids can play in the warm sand while you hit the trails. While the dunes may not be as steep or intense as some other places like Imperial Dunes, the great weather and beach atmosphere makes it a big draw among visitors from California and other states.
Find more info here.
Something for Everyone
California lives up to its reputation of great weather, beautiful beaches and incredible wildlife. ATV riders that come to California can find a range of activities for all skill levels. If you're looking for something tame to break up a road trip and hang out with friends and family, there's something for you. Additionally, if you're looking for the largest, most intense dunes in the country, they're here as well. There are several reasons why so many ATV professionals and competitions are held in California every year. The nearly year-round perfect weather makes it an ATV rider paradise, perfect for competitions and casual riders alike.
These five dunes for ATV riding are among the country's best. They're still affordable, and, depending on the site, have facilities for every style camper and ATV rider. One of the best things about these dunes is that each has something unique that makes a trip out to visit them worth it. Don't be afraid to pack up the car or the RV and hit the road for an unmatched adventure. You'll be thanking yourself as you take in the gorgeous views from the top of that next dune.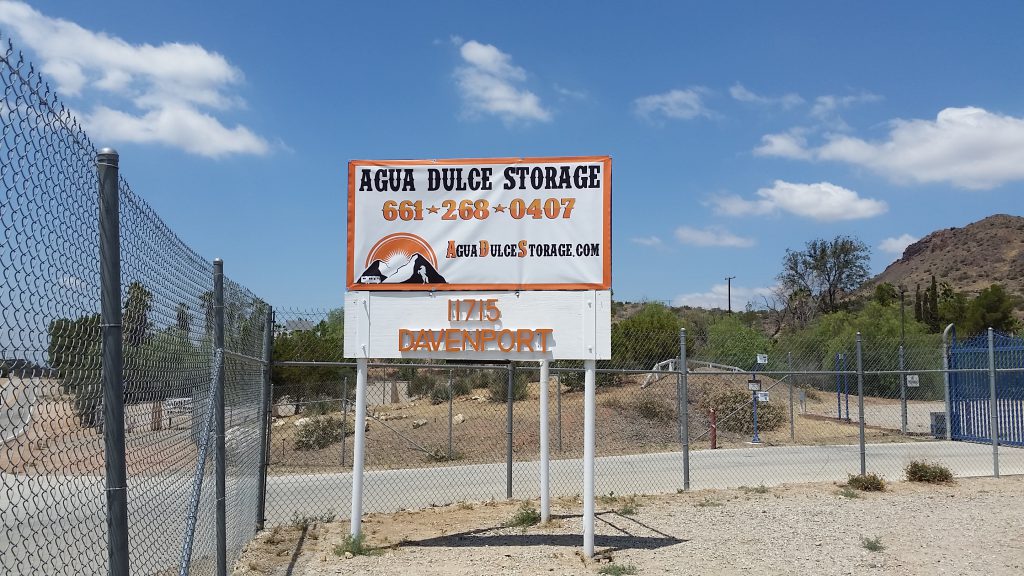 If you're looking for a Boat Storage Facility to securely store your Sand Rail, ATV, RV, or Boat, Agua Dulce Storage has got you covered! Here at Agua Dulce Storage, we offer a wide selection of parking units to accommodate for your need. To learn more about our storage facility, please check out our website at https://aguadulcestorage.com/.